OPET (Organisations for the Promotion of Energy Technologies)

The OPET Network was created in order to comply with European Union's mandates established in the Treaty of Amsterdam, articles 164, 165 and 170: dissemnination and valorisation of Community RTD results; promotion of the co-operation with third countries and international organizations in the field of RTD. The OPET Network operates within the scope of the ENERGIE programme. ENERGIE is the part of the "Energy, Environment and Sustainable Development Programme" within the 5th EU Framework Programme for Research and Development (1998-2002).
The OPET Network aims to promote the results of new energy technologies and their introduction in society. Its activities support European policy in terms of improving energy efficiency, of increasing the diversity of supply and broadening the use of renewable energy sources.
The Network consists of 45 consortia consisting of 108 organizations, covering all the Member States of EU, Associated States to 5th Framework Programme, Candidate Countries and a number of countries who have signed international co-operation agreements in the field of RTD with EU.
The OPET Network is managed by DG TREN (Energy and Transport) of the European Commision.
THE CONSORTIUM 'OPET CAUCASUS'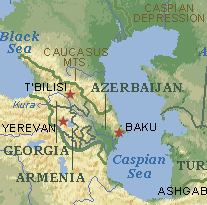 The members of Consortium are three newly launched Energy Centers in the Caucasus region, in the creation process of those Centers European Union together with local Governments played an important role through the program TACIS.
A good geographic and political location of Georgia in the Caucasus Region; Best linkage between the Azerbaijan and Armenian Centers; Existence of the experience for participation in the international and local projects; The initiation and active development of the idea for the development of project for integration of our regional Centers within the OPET Network - determine the role of Energy Efficiency Centre Georgia as a coordinator for the "An OPET Associate for Caucasus Region" project.
Objectives
There are two main objectives at building an OPET Network in the Caucasus Region with the Energy Centres of the three Caucasus republics: Armenia, Azerbaijan and Georgia
Provide a focal point and a relevant process of dissemination for information concerning energy in the Caucasus Region and links with European OPET Network.

Provide opportunities of European co-operation according to the real needs of market actors in this Region in terms of clean and effective energy and corresponding technologies.
Energy Centers in the Caucasus
Energy Efficiency Centre Georgia (EEC) ("The Coordinator"), established in Georgia, 10, Lermontov str., 0107 - Tbilisi.
Energy Strategy Centre (ESC), established in Armenia, 127 Armenakyan str., 375047 - Yerevan.
Energy Saving and Management Center for Azerbaijan Republic (ESMC), established in Azerbaijan, Zardabi Avenue 94, 370016 - Baku.